Introduction of the Spot
Rising Star
The youngest strawberry farm in Neihu, Taipei

When you enter the "Daluntou Strawberry Farm", there are mini green tunnels built from vegetable huts and small ponds dotted with geese. There are roosters strolling through the strawberry garden, and one of the walls is covered with various certificates, the recognition of Qiu Wenjuan and Lin Guanyu's constant efforts to improve their professional skills and service quality of the farm, and participation in national training and examinations.

Qiu Wenjuan, who has been fond of strawberries since she was a child, has always dreamed of running a strawberry garden.
She took the qualification exams, hid her skills and worked in a well-known Italian restaurant in North City where she honed her Italian cooking skills and customer service, all the while working hard to improve farming in Miaoli Farm.
Her daughter Guan Yu, who was originally working in Singapore, also returned to her hometown to join the ranks of the young farmers.

"Daluntou Strawberry Farm" may be the youngest strawberry farm in the whole district, but it is also the largest.
3 varieties of strawberries can be found in the park, Perfume, Tianlai No. 3 and Lianxiang. Perfume has a strong strawberry aroma and a soft bite, Tianlai No. 3 is more fragrant and has a crisper bite, while Lianxiang is the Chanel of the strawberry world, with a strong aroma, strong sweetness, and is immensely popular despite the slightly pricey tag. The entire strawberry season starts from December at the end of the year to mid-May of the following year. The half-year long strawberry season, and the fact that some are planted in the greenhouse, means you can enjoy strawberry picking during both sunny and rainy days.

In addition to picking strawberries, the dining at "Daluntou Strawberry Farm" is not to be missed. The strawberry soufflé is their signature dessert.
There are many savory dishes on the menu, including raspberry-style pepper chicken, raspberry-fried sea bass, and raspberry sauce pork ribs, all of which contain strawberries.
Regular customers strongly recommend the strawberry chicken thigh pizza. The fresh and tender chicken thighs are paired with sweet and sour strawberries as well as melted cheese. People cannot resist ordering a take-away after eating in.

In addition to picking strawberries and enjoying strawberry meals, Daluntou Strawberry Farm also offers a variety of DIY strawberry snow cakes and roasted berries experience. Bear cake is beloved by parents and children alike. There are also strawberry jam, dried strawberry, strawberry Q candy and strawberry chocolate … …
All compose an unforgettable taste of joy.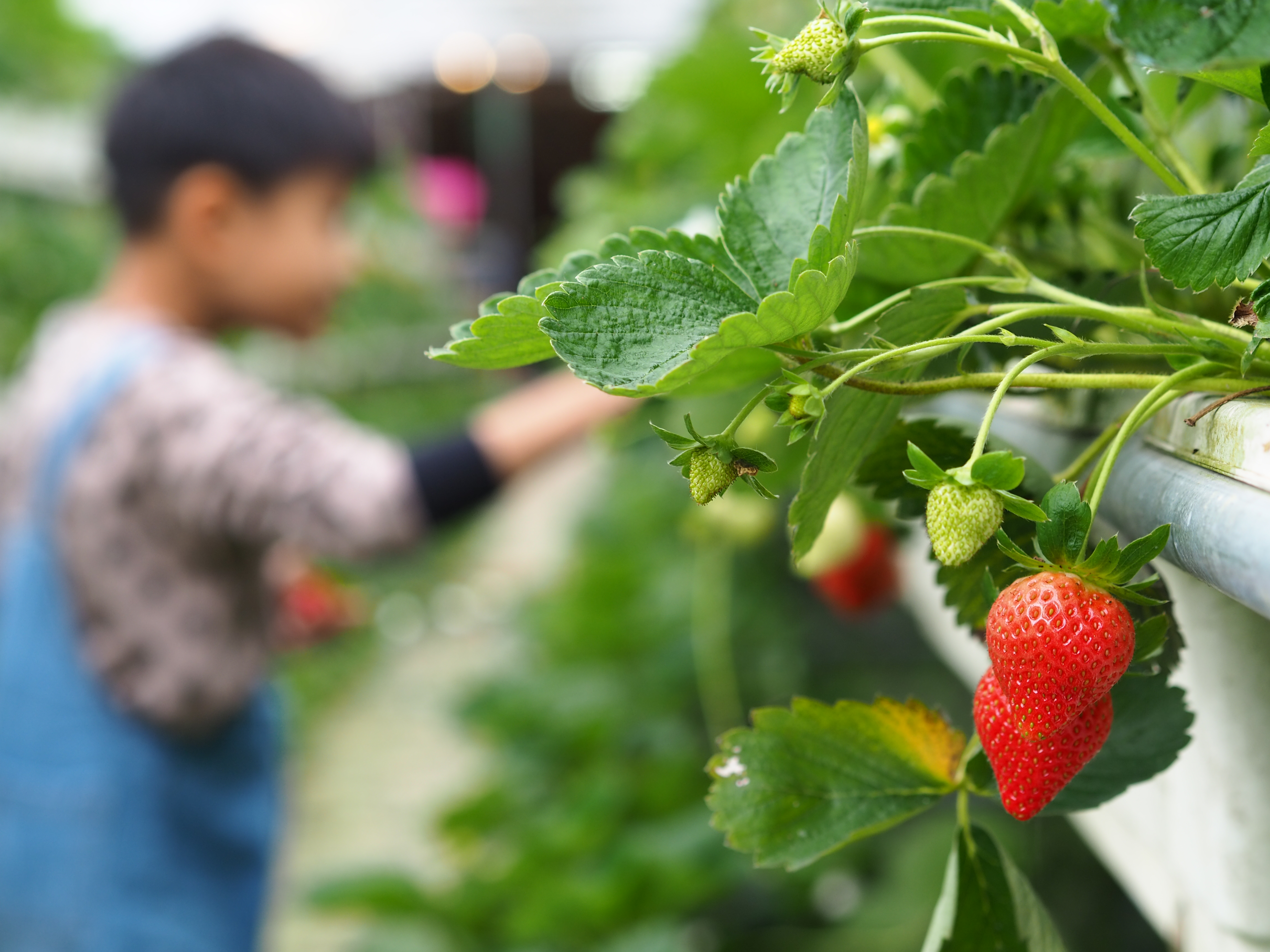 ---